I started carving hobo nickels in January of 2012 after a friend of mine sent me a photo of a modern hobo nickel. I was fascinated at the thought of modifying a coin to create a miniature piece of art.
Since that time I've learned a lot and have met some wonderful hobo nickel carvers from all over the world.
2015 November - Two of my Hobo Nickels, "Hobo Hitchhiker" and an Indian Head skull went on permanent display at the Smithsonian Institution, National Museum of American History.
2013 - Completed the American Numismatic Association's "Hobo Nickel Carving" course taught by Joe Paonessa
2013 - Completed the American Numismatic Association's "Advanced Hobo Nickel Carving" course taught by Ron Landis
2013 - Listed as one of the Associate Producers of "A Nickel and a Nail - the Original Hobo Nickel Story" a film by Adam Leech.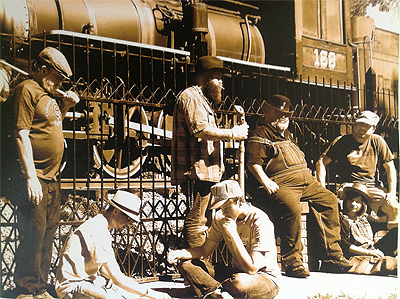 2013 Advanced Hobo Nickel Carving class - Colorado Springs
Ron Landis, Sam, Ryan, Don, Tiny, Hanna and Jay
A couple of my Great Uncles used to ride the rails. My Great Uncle Hugh West spent some time in the hobo life riding trains around the country. I have a few stories of him and his buddy riding around on trains. One story he talked about riding from Montana to Spokane, Washington and he said "there must have been two hundred bums riding on top of that train". Another story he talks about arriving at a stop and his buddy wanted to get a room and have a good nights sleep. My Uncle said "We can't waste anytime, we'll get a room when we get there. Let's find the jungle and see what's going on." He didn't want to go but I told him "There's a lot of good guys on the bum." We went down to the river and here under the bridge was seven or eight guys with a fire going, and the coffee pot on, invited us to have some coffee, there was cups hanging in the tree, that was the law of the jungle then, to clean up the dishes and leave for the next guy. So we decided to all go up town, see what we could rustle up and come back and have a big feed. We stopped at a guys house that had a big farm and told him what we were trying to do, he gave us some potatoes and carrots out of the garden and his wife came out and gave us a loaf of homemade bread. Boy we hit the jackpot! On the way back we past the stockyards, there were some cows and calfs in there. I told him, "If you'll hold one of them cows, I'll get some milk." I found a coffee can, washed it out, and we got about a quart of milk. When we all got back you should have seen what we had. One guy had a chicken, another had turnips and cabbage, one had sardines and crackers, one had doughnuts. there was a big five gallon can there, we cleaned it up, put about half full of water and potatoes, carrots, chicken and everything else and we let it boil. Believe me we had a feed that wouldn't quit. We got filled up and rested, so we went up and caught a train to Seattle". I don't believe my Great Uncle ever carved any nickels but I'm sure he met several carvers in his travels. I like to think about what times were like back then while I'm carving a nickel, it sure would have been fun to experience some of those adventures.
My Dad was telling me about when he lived with my Grandparents near the railroad tracks in East Olympia and hobos would come up to the house and ask for a drink of water. My Grandmother always used to feed them because she knew that was how a couple of her brothers were traveling around the country hopping freight trains.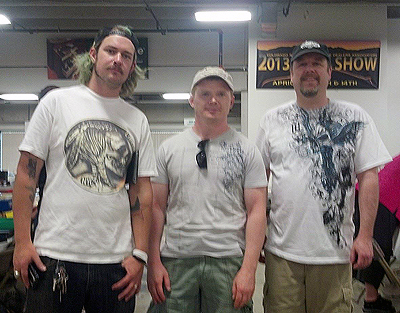 Adam Leech, Aleksey Saburov and Jay at the Colorado Springs Coin Show