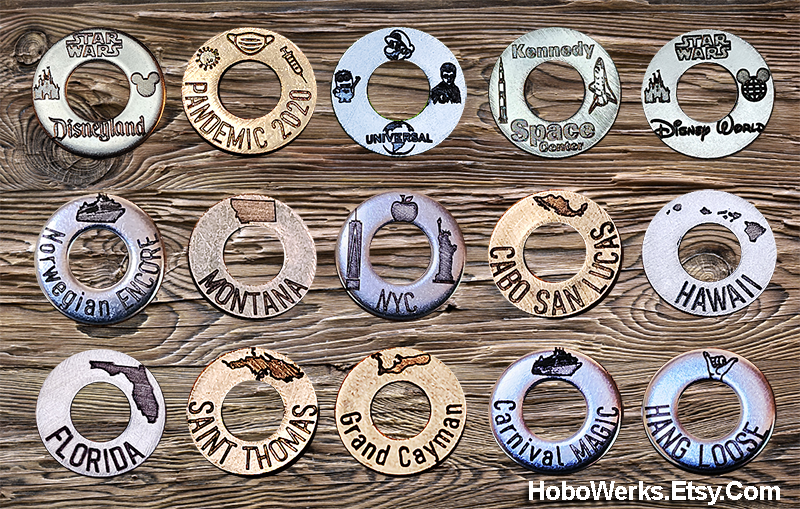 Welcome to HoboWerks: Artistry for Adventurers
About Us
At HoboWerks, we specialize in crafting custom-made travel tokens to commemorate your journeys and adventures. Our tokens are designed with precision and care, capturing the essence of your travel experiences in a unique and personalized way.
Custom Made Travel Tokens
We take pride in offering a wide range of custom-made travel tokens for all occasions, events, locations, ships, attractions, and more. Whether you want to commemorate a memorable family vacation, a breathtaking natural wonder, a dream cruise, or even a special landmark, our tokens can be personalized to suit your preferences. Simply let us know the names, dates, or symbols you'd like to include, and we'll create a token that perfectly captures the essence of your travel experience.
Quality and Craftsmanship
Our travel tokens are crafted with meticulous attention to detail. Each token is carefully designed to showcase the beauty and significance of the location it represents. We take pride in our craftsmanship, ensuring that every token is a work of art that you'll be proud to own and display.
Endless Possibilities
With our custom-made travel tokens, the possibilities are endless. They make exceptional gifts for fellow adventurers, travel enthusiasts, or anyone looking to commemorate their journeys in a unique way. Our tokens can be attached to keychains, displayed on charm bracelets, or used as decorative elements in your travel-themed projects. They are a tangible reminder of the memories and stories that each destination holds.
Order Your Personalized Token
Ordering your personalized travel token from HoboWerks is easy. Simply browse through our collection on Etsy or reach out to us with your specific requirements. We'll work closely with you to create a token that captures the essence of your travel experience. Each token is made to order, ensuring that it is tailored to your unique story.
Join the Adventure
Embrace the spirit of adventure and celebrate your journeys with HoboWerks. Our custom-made travel tokens are a testament to your wanderlust, allowing you to carry the memories of your travels wherever you go. Explore our collection, and let us create a token that becomes a cherished symbol of your adventures.
Start your collection of travel tokens today and let HoboWerks be your trusted companion on your travel-inspired journey.